The Best Heating and Cooling Company in Strathroy, Ontario
Quality Heating and Cooling Solutions
Fry's HVAC Services is a unique and reliable family-owned and operated business that has earned a great reputation for providing exceptional heating and cooling solutions in Strathroy, Ontario. We specialize in catering to both residential and agricultural clients, offering personalized and extensive services to meet their needs. Our team of experts will visit your site for a full inspection to determine the best course of action for your heating or cooling system. At Fry's HVAC Services, we use the latest technology and equipment to ensure that our services are prompt, efficient and result in the most optimal environment for your home or business. Our aim is to keep you comfortable all year round, and for this reason, we provide cost-effective maintenance services to improve the longevity and reliability of your HVAC system. We are confident that we can provide you with the best heating and cooling services in Strathroy, Ontario. Please contact us today for a free site inspection and let us provide you with a recommendation that is tailored to your specific requirements.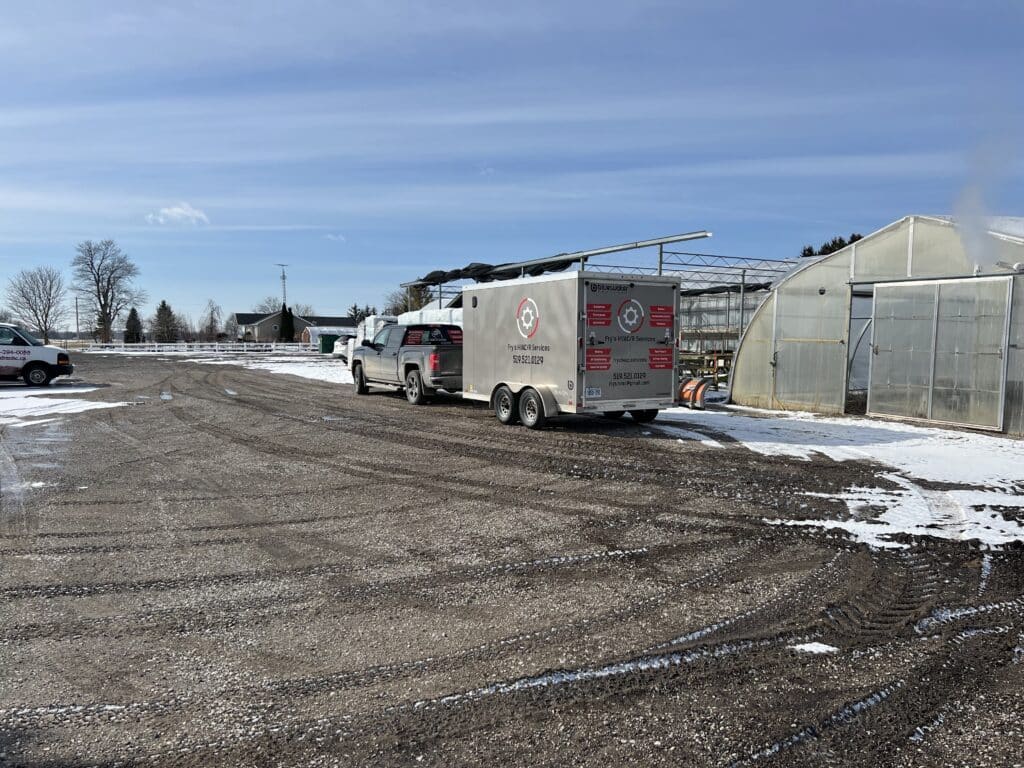 Fry's HVAC Services has been providing exceptional HVAC services throughout Strathroy, Ontario and the surrounding areas for many years. Our dedication to quality is evident in every job we undertake. We are proud to offer a comprehensive range of services to meet the heating and cooling needs of all clients. We understand that each client has unique needs and preferences, so we take the time to listen and tailor our solutions to meet those specific needs. Our goal is to build long-term relationships with our clients based on trust, reliability, and exceptional service delivery. So, whether you need quick repairs or a complete installation, our team of expert technicians is always ready to assist. Contact us today for any Heating and Cooling questions or to schedule a service with our team!
Honesty. Integrity. Excellence.
These core values are how we choose to operate. As a family owned and operated business, Greg and Erin Fry offer a truly personal experience. Our customers allow us to do what we love. We're not just after a quick sale, we want to provide you with the best solution for your needs and be your go-to HVAC Strathroy service provider.
Ensuring we listen to your goals, guiding you in choosing the right equipment and making the entire experience comfortable is a promise. And being there when you need us is a guarantee.
#1 Service Provider for Heating and Cooling in Strathroy
Geothermal utilitzes renewable energy from the earths crust. In a home this is done through the use of a ground source heat pump.
Air Source Heat Pumps Strathroy
Air source heat pumps absob air from the current air temps during heating season. These systems take care of both your heating and cooling.
Hydronics is a centralized heating and cooling system that utilizes hot water in order to heat your home.
Furnaces are a forced warm-air heating system. They can be powered using electricity, natural gas, or fuel oil.
Air Conditioning Strathroy
Air conditioning involves the removal of excess heat and humidity from living and working areas, typically to maintain a cool atmosphere.
Gas piping are the supply lines for natural gas or propane. This provides the fuel needed for residential, agricultural, or commercial buildings.
"Greg is a really nice guy and has been very helpful over the past year with several jobs in my home. He is very responsive with e-mails and promptly communicates any changes to his schedule. His prices are very reasonable and always makes sure the job is complete. I have recommended him to family and friends."
"I cannot express enough how knowledgeable and efficient Greg is. We were 100% pleased. You can certainly see that his 20 plus years of experience has paid off. Greg is the most professional contractor that we have ever dealt with. If you want total satisfaction, then call Greg Fry!"
"Fry's HVAC is incredibly efficient, friendly, and honest. They did a really great job. They are are tidy and precise! We highly recommend!
Frequently Asked Questions